News
Arabian Falcon Announces its new Partner:
Sonya Travel Network
Sonya Travel Network started its operation more than 3 decades ago in Pakistan. It is the largest Travel, Tours, Umrah and Hajj network with 25 branches in all the major cities of Pakistan. For the past twenty seven years, Sonya Travel Network is consistently the leading group in the travel industry of Pakistan. In the year 2012-13 STN has had the privilege of providing travel and tour services to more than 300,000 passengers from and to different parts of the world, making the Sonya Southern group the largest contributor to travel from Pakistan. It has also won many awards, most recently, "Arabia500 Fast Growth 2012" 20th ranked out of 500 fastest growing companies of MENASA plus Turkey region (Middle East, North Africa, South Asia) announced at 3rd Global Entrepreneurship Summit at Dubai.
With 25 Offices in Pakistan and 3 Offices in Saudi Arabia, Sonya Network had opened two offices in Dubai, both located at the World Trade Centre. The products provided by Sonya Dubai are as follows:
• Dubai Tourist Visas (14 Days, 30 Days, 60 Days & 90 Days)
• Airline Tickets
• Discounted Business & First Class Tickets
For more information please contact:
---
News
Arabian Falcon International Signs Marketing Contract with Freelancers/Devecode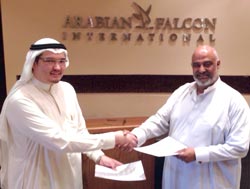 Mohammad Khoujah, Freelancers / Devecode (L) and Al Mohannad Sharafuddin, Chairman - Arabian Falcon.(R)
Arabian Falcon International has signed a contract with Freelancers/Devecode in order to promote the Jeddah's marketing efforts. Arabian Falcon International, the Jeddah win g of Arabian Falcon Holidays which is the largest vacation ownership company in the Middle East, wanted to look at news ideas and talent emerging from Saudi Arabia.
"Arabian Falcon has always promoted fresh, young talent and Freelancers Devecode is a group of such young individuals coming up with great ideas." said Mr Mohannad Sharafuddin Chairman of Arabian Falcon. "Marketing in our company is cutting edge and it is always good to look at ideas out of the box."
The announcement of this partnership will enhance, and look in to the marketing strategies in various areas of Arabian Falcon International.
---
Events
Eid in Dubai - Eid Al Adha 2014
Eid in Dubai celebrates the Islamic festivities of Eid Al Adha and translates them into events for families and children
When: 2nd to 11th October, 2014

GITEX Technology Week 2014
A gateway for global technology brands to access the Middle East, the fastest emerging and investment ready ICT market.
When: 12th to 16th October, 2014
Dubai World Hospitality Championship 2014
Introducing Emirati cuisine and culture to the world.
When: 30th October to 1st November, 2014

---
Arabian Falcon Holidays in the News