DESTINATIONS
Las Vegas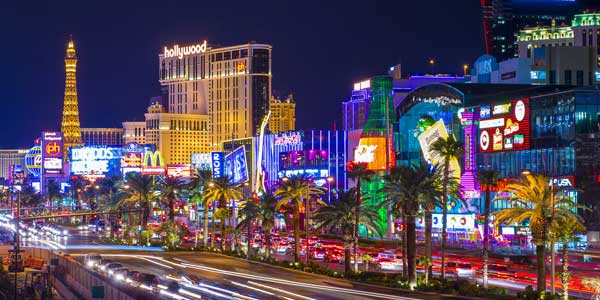 Fabulous Las Vegas
Quick Facts
Population
603,488
Timezone
GMT -8
Currency
US $
Climate
subtropical, hot
Las Vegas is the most exciting and entertaining city in the world. Nowhere else can you find a city that has all the travel amenities that only a complete resort destination can offer: luxurious casino hotels, fine dining, wonderful live entertainment and state-of-the art convention and trade show facilities. Las Vegas is a spectacular city, incomparable to any other. Everything that you would expect from a world-class metropolis, and more, is right here for your travel pleasure.
Las Vegas is a city that has something for everyone. While you are here, make sure to see all the great attractions the city of Las Vegas has to offer. Recognized all over the world, the famous Las Vegas Strip is where tourists can enjoy a walk in the warm desert evening, or take a stroll downtown and view a dazzling light show that spans an entire street, the Fremont Street Experience. Visitors can also get a glimpse of amazing world famous re-creations like erupting volcanoes, the Eiffel Tower and the Sphinx of Egypt in front of the various hotels and casinos. Las Vegas tourism offers top quality entertainment, including headliner shows and concerts, attractions, shopping and world-renowned resorts. Las Vegas nightlife will keep you up until dawn and art displays, music and museums take you on a journey from the classic to the contemporary. Downtown Las Vegas offers an energetic display of color with a bit of nostalgia and a glimpse of the future.
Places to Visit
1
Bellagio Fountains
2
Cirque du Soleil
3
Kayaking & canoeing
4
Cowboy Trail Rides
5
Breakfast Buffet at the Wynn
6
Shark Reef Aquarium
7
Red Rock Canyon National Conservation Area
8
New York-New York Roller Coaster
9
Conservatory & Botanical Gardens at Bellagio
10
Downtown
If you are looking to enjoy the Wild West and the great outdoor recreation, beyond the glamour and glitter of the neon lights, you have plenty to see. There are enchanting panoramas in the Red Rock National Conservation area, Lake Mead National Recreation area and at Mount Charleston. All are only minutes from Las Vegas Strip hotels and casinos. We have Las Vegas helicopter tours, Grand Canyon tours, Hoover Dam, and Las Vegas Strip tours departing every few minutes.
Las Vegas continuously reinvents itself, so even if you have been to this great city before you will never run out of fun things to do. You can use the links above to acquire more travel and specific Las Vegas tourist information for unique opportunities and attractions offered to visitors every year.
Have a great time in this wonderful city!
Give us a call to find out more:
Tel.: +971 (4) 324 4775
Email: info@arabianfalcon.com