The UAE is bidding to host the World Expo 2020 in Dubai under the theme 'Connecting Minds, Creating the Future'.

Every five years and for a period of six months, World Expos attract millions of visitors. The World Expo has never been held in the Middle East, Africa and South East Asia in the history of the event.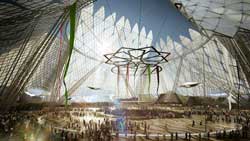 An artist's impression of Expo 2020 at night
UAE submitted a bid in November 2011 to host the World Expo 2020 under the theme 'Connecting Minds, Creating the Future'. The UAE is competing with Russia, Brazil, Turkey and Thailand. The winning country will be announced in 2013.
In today's highly interconnected world, a renewed vision of progress and development based on shared purpose and commitment is key. While a single human mind, an individual country, or a specific community is both unique and remarkable, it is by working collaboratively that we truly advance.
A World Expo in Dubai in 2020 would be the first to be held in the MENASA (Middle East, North Africa and South Asia) region. As the global community faces ever more complex, and increasingly interconnected challenges, the links between people, societies and ideas have never been more important. Dubai Expo 2020 will be a platform for connectivity to help pioneer new partnerships for growth and sustainability for the future.
Here are a few reasons (out of many) on why Dubai should win the bid
1
Home to over 200 different nationalities, Dubai is one of the most connected cities in the world.
2
The second largest economy in the region with GDP in excess of $360billion in 2011 and accounting for 1.3% of global trade.
3
World Bank rated Dubai as the fifth most accessible city in the world for enabling trade.
4
International Monetary Fund (IMF) has ranked UAE first in the region and fourth in the world in the Ease of Doing Business Index.
5
It is one of the safest countries in the world.
6
UAE is home to 50% of the Fortune 500 companies.
Visit the official website to see videos and find out more: www.expo2020dubai.ae
Arabian Falcon Holidays proudly supports the bid for Dubai Expo 2020 and wishes best of luck to the Government of UAE!