Stately cities, dramatic countryside and a spectacular coastline
With its mild climate, 3000 hours of sunshine per year and 850 kms of splendid beaches bathed by the Atlantic Ocean, Portugal is the perfect holiday destination all year round.
Geographically and culturally somewhat isolated from its neighbour, Portugal has a rich, unique culture, lively cities and beautiful countryside. Portugal is situated at the south-west point of Europe and also includes the Madeira and Azores archipelagos in the Atlantic Ocean. Mainland Portugal occupies an area of 88,889 km2. It is 218 km wide and 561 km long. It has 832 km of Atlantic coast and a 1,215 km border with Spain. Although it was once one of the poorest countries in Western Europe, the end of dictatorship and introduction of Democracy in 1974, as well as its incorporation into the European Union in 1986, has meant significantly increased prosperity.
You can travel in a single day from green mountains in the North, covered with vines and all varieties of trees to rocky mountains, with spectacular slopes and falls in the Centre, to a near-desert landscape in the Alentejo region and finally to the glamorous beach holidays destination Algarve
This is a country that has the oldest borders in Europe, with an exceptional range of different landscapes just a short distance away, lots of leisure activities and a unique cultural heritage, where tradition and modernity blend together in perfect harmony. Its superb cuisine, fine wines and hospitable people make this a tourist paradise of the highest quality.
Situated in the extreme south-west of Europe, just a few hours from any of the other European capitals, Portugal attracts visitors from all over the world.
Come and discover the charms of this country too.
Give us a call to find out more:
Tel.: +971 (4) 324 4775
Email: info@arabianfalcon.com

---
Quick Facts
| | |
| --- | --- |
| Population: | 10,271,793 |
| Timezone: | UTC+00:00 |
| Currency: | Euro |
| Climate: | Mediterranean |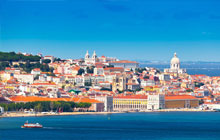 Lisbon
---
Popular Desitinatons
Lisbon
Porto
Algarve
Sintra
Madeira Island
Funchal
Cascals
Peneda-Gerês National Park
São Miguel Island
Coimbra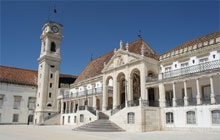 University of Coimbra, one of the oldest universities in the world and a UNESCO World Heritage Site.