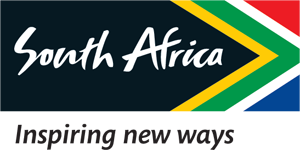 South Africa is located at the southern tip of Africa. It is bordered by Namibia, Botswana, Zimbabwe, Mozambique, Swaziland and Lesotho. It is a vast country with widely varying landscapes and has 11 official languages, as well as an equally diverse population. South Africa is renowned for its wines and is one of the world's largest producers of gold. South Africa has the strongest economy in Africa, and is an influential player in African politics. In 2010, South Africa hosted the first Football World Cup to be held on the African continent.
To visit South Africa without learning about its tumultuous history is to miss a crucial part of the country's identity. Museum visits, many of which include exhibits on the apartheid era, might not be lighthearted, but will help you to understand the very fabric of South African society and to appreciate how far the country has come. Continue your history lesson with a visit to one of the townships, taking time to chat to locals and to learn that despite a heart-wrenching past, there is great pride here, and an immense sense of promise for the future.
South Africa is one of the continent's best safari destinations, offering the Big Five (lion, leopard, buffalo, elephant and rhino) and more in accessible parks and reserves. You can drive right into the epic wilderness at Kruger, Kgalagadi and other parks, or join khaki-clad rangers on guided drives and walks.
South Africa's ever-changing scenery is the perfect canvas on which to paint an activity-packed trip. Try rock-climbing in the craggy Cederberg, surfing off the Eastern Cape coast, abseiling from Cape Town's iconic Table Mountain or bungee jumping from a Garden Route bridge.
Perhaps nowhere is the diversity of South Africa better represented than on its menus. Sample traditional samp and beans in Limpopo; enjoy hearty Afrikaner stews in the hinterland; tuck into spicy, Indian-style curries in Durban; graze on seafood along the coast to Cape Town, then take your pick of the bistros, cafes and top-notch restaurants that make this a fine city for foodies.
Land on South African shores, and it might just grab hold of you, too!
Give us a call to find out more:
Tel.: +971 (4) 324 4775
Email: info@arabianfalcon.com

---
Quick Facts
| | |
| --- | --- |
| Population: | 54.96 milion |
| Timezone: | UTC+02:00 |
| Currency: | Rand (ZAR) |
| Language: | Afrikaans, English, Zulu |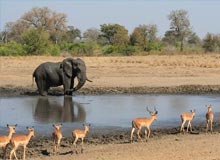 Kruger National Park
---
Popular Desitinatons
Cape Town
Kruger National Park
Johannesburg
Port Elizabeth
Pretoria
Durban
Hluhluwe–Imfolozi Park
Hoedspruit, Limpopo
Cradle of Humankind
Sun City
---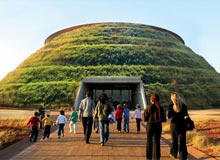 Cradle of Humankind