Arabian Falcon Holidays, Dubai Tourism target African visitors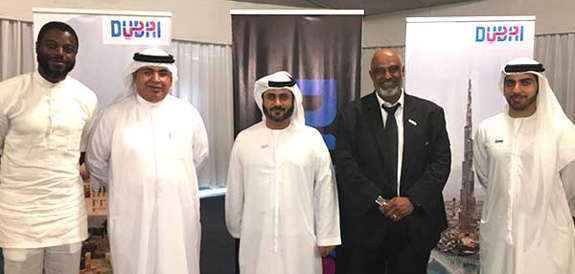 From L to R: Mr. Vesiri Ibru - Ibru Group, Captain Abdulrahim Hassan Al Mulla - Ministry Of Interior, General Directorate Of Residency and Foreigners Affairs, Mr. Talal Al Suwaidi - Manager, Exhibitions Stakeholder Relations, DTCM, Mr. Al Mohannad Sharafuddin - Chairman and Acting Partner Arabian Falcon Holidays, Mr. Hamad Al Shirawi - Assistant Manager African Region DTCM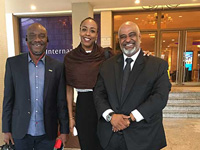 Arabian Falcon Holidays (AFH), the largest independent timeshare player in the Middle East, has concluded a successful participation in the Nigeria roadshow organised by Dubai's Department of Tourism and Commerce Marketing (DTCM).
This is in line with AFH's thrust to partner with the government in promoting Dubai as a leisure destination among African tourists.
Africa represented 5 per cent of the total inbound tourism source markets of Dubai in 2015 and the potential to develop this segment appears lucrative. With 201,000 Nigerian visitors last year, Dubai continues to focus on this country as one of the key markets in Africa.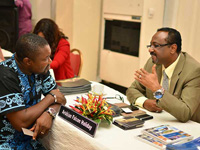 The timeshare industry contributes greatly to tourism receipts as it encourages repeat visitors and tourist spending. In 2015, the total sales of AFH alone stood at Dh88 million ($24 million). According to the latest AFH Economic report, the timeshare market in Dubai is expected to witness exponential growth and will contribute more than Dh14 billion ($3.81 billion) to its economy, driven by an expected 25 million visitors, by 2020. A study conducted by Ernst and Young for the American Resort Development Association (ARDA), a trade body representing the vacation ownership and resort development industries, shows that the US timeshare industry contributed an estimated $68.7 billion in consumer and business spending to the national economy in 2013.
Stella Obinwa, regional director International Operations – Africa of DTCM, said: "This roadshow allowed Dubai-based companies to directly interact with travel operators and travel agencies in Nigeria,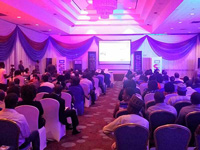 pursue new contracts, and develop stronger business ties that will yield mutually beneficial and strategic partnerships. We believe this activity is instrumental in establishing Dubai as the preferred destination of holidaymakers from Nigeria."
Sharafuddin said: "We look forward to being part of DTCM's future roadshows. We have noticed that such events backed by government institutions generate trust and confidence among the participants and attendees. This kind of initiative shall pave the way to attract more tourists and to accomplish the vision of Dubai to attract 20 million tourists per year by 2020."
---
Ramadan in Dubai 2016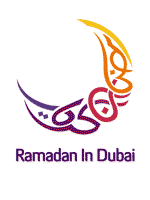 Ramadan is a significant month in the Islamic calendar and in Dubai, the period is marked by a host of Ramadan-related activities. The Dubai Government organises numerous events during the month and the retail sector sees brisk business. Emarati hospitality and traditions are also very evident during this month as Iftars are hosted across Dubai and residents of different nationalities come together to share the spirit of Ramadan. Also included annually during Ramadan are a number of educational cultural activities that aim to educate the public on what the month of Ramadan is all about and how to conduct one's self during this holy month. There will be the annual Holy Quran recital competitions held for students and adults with the winners earning cash prizes and more.
Date: June 2016

---
Arabian Falcon Holidays in the News