Jamaica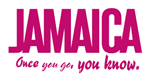 Jamaica, a Caribbean island nation, has a lush topography of mountains, rainforests and reef-lined beaches. Many of its all-inclusive resorts are clustered in vibrant Montego Bay, with its British colonial architecture, and Negril, renowned for diving and snorkelling. Jamaica is famed as the birthplace of reggae, and its capital Kingston is home to the Bob Marley Museum, dedicated to the city's most famous son.
First-time visitors to Jamaica are often struck by not only the beauty of this land, but also the warmth and pleasure that are embodied in all that is Jamaica. From the quiet glows of a sunset and the pulsating rhythms of our reggae music, to the unique appeal of our food, tourist activities and natural happiness of our people, this is truly a pleasure-seeker's dream come true. And there is so much here for you to experience. Whether you are looking to enjoy the many miles of beach along your adventure trek or play the chameleon while soaking in the magnificent mountain views; there awaits a myriad of tourist attractions and activities for a fun-filled vacation. Coupled with this, you will find that our range of accommodations will cater to your particular preference — from the faster tempo of some of our larger properties to the intimate and serene surroundings of a tucked-away property.
Our world-class offerings and accommodations in Jamaica are priceless, and the high rate of repeat tourists that come to our shores is testament to this.
Give us a call to find out more:
Tel.: +971 (4) 324 4775
Email: info@arabianfalcon.com
Quick Facts
Population:
2.8 million
Timezone:
GMT -5
Currency:
Jamaican dollar
Climate:
Tropical
Places to Visit
Dunn's River Falls
Dolphin Cove Jamaica
Bob Marley Museum
Blue Mountains
Devon House
National Gallery of Jamaica
White Witch of Rose Hall
Reggae Beach
Outameni Experience
Putt N Play Amusement Park